Don't we all like how versatile a princess cut dress like this can be: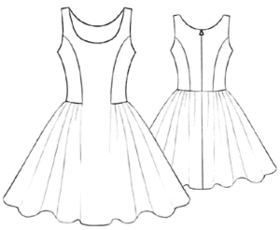 Paired with the right cardigan, viola you can get that perfect day dress for a date, it can even go well for a girly dinner dress. See for example this Oscar Dela Renta Dress,
or dress up like Zooey Dechanel
Use a lace fabric for an inspired Kate Spade Dress:
So if you want to have yourself a dress like this, you can even play with the pattern to achieve your own design. Lengthen the hemline to get a maxi-dress, box pleat the skirt or do whatever without spending a fortune. Go pick your favorite fabric and lets start sewing. Now!